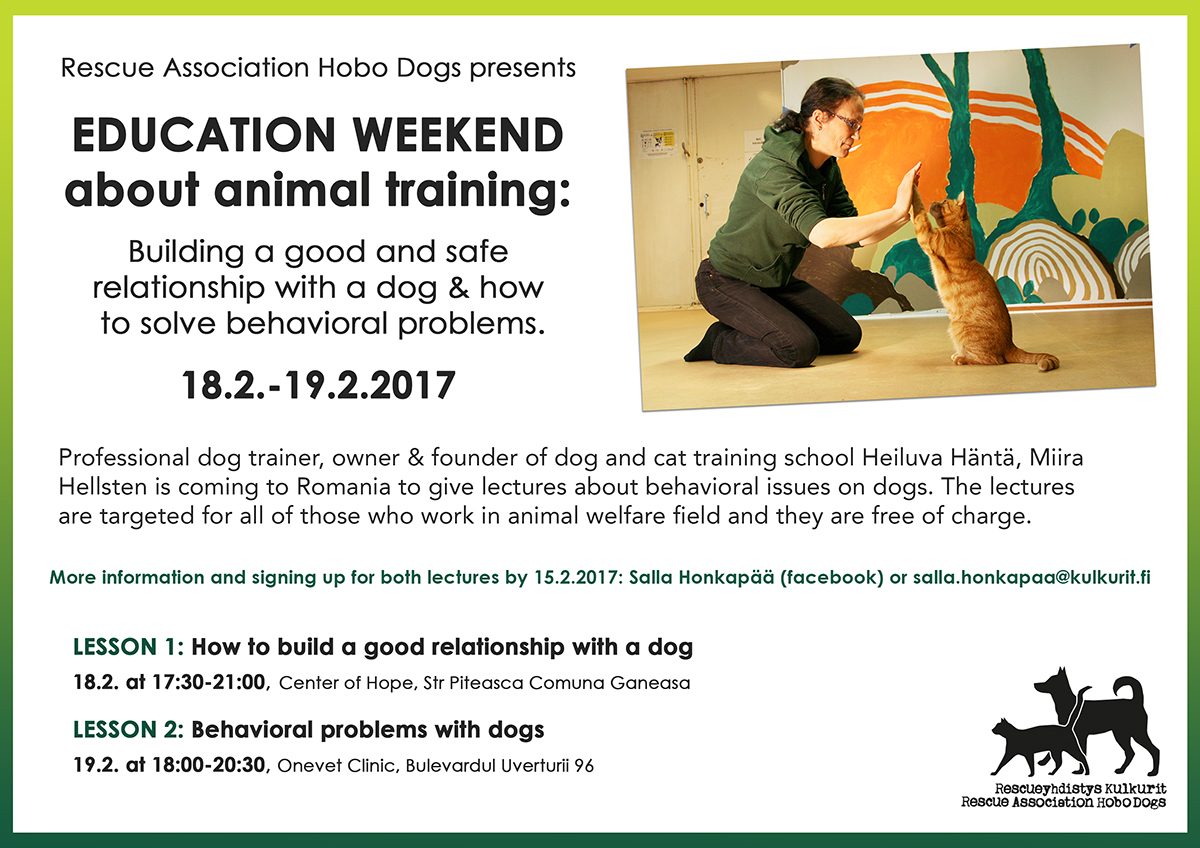 23.1.2017
Rescue Association Hobo Dogs presents
EDUCATION WEEKEND ABOUT ANIMAL TRAINING:
BUILDING A GOOD AND SAFE REALTIONSHIP WITH A DOG AND HOW TO SOLVE BEHAVIORAL PROBLEMS
Professional dog trainer, owner & founder of dog and cat training school Heiluva Häntä, Miira Hellsten is coming to Romania to give lectures about behavioral issues on dogs.  The lectures are targeted for all of those who work in animal welfare field and they are free of charge. Snacks are offered during lectures. More information below:
LESSON 1: How to build a good relationship with a dog
1. The body language of a dog and recognizing pain and stress symptoms
2. What does the science say about building a good leadership with a dog
3. Recognising the needs of a dog
4. Emotional life of a dog
The lecture includes photos and videos of shelter dogs in Romania, time for discussion and snacks.
Is also suitable for those who took part in the very first lecture (09/2016), as the lecture has been updated since.
Time and location: 18.02. at 17:30-21:00, Center of Hope, Str Piteasca Comuna Ganeasa
Transportation from Bucharest can be arranged, please contact Salla Honkapää for this (contact details at the bottom of the page).
————————————————–
LESSON 2: Behavioral Problems with Dogs
–    What to do, when a dog is resource guarding?
–    How to train a dog, who is fearful/aggressive towards humans or dogs or other things?
–    How to make handling less stressful for dogs and safer for humans?
–    How to reduce stress and understand the body language of dogs
The attendees are asked to send case examples in writing or,  even better,  short (max 5 minutes) video clips of some situations, where the dog's behaviour is problematic. Send the written examples and links to the videos to miira (at) heiluvahanta. fi.  Please use links – download the videos to internet, for example in Youtube and send the link to Miira.
The attendees get a diploma after attending these lectures. Lesson 2 is targeted for all of those who attended the first lecture on 9/2016 and/or the Lesson 1 on 18.02.2017.
Time and location: 19.02. klo 18:00-20:30 Onevet Clinic, Bulevardul Uverturii 96
---
About Miira:  Miira Hellsten is a full-time animal trainer who has a degree in animal training (from 2007) and part-time non-fiction writer and journalist. She also has Master's Degree in Social Sciences (University of Jyväskylä, majoring in society politics, minoring in eg. communicational studies). She is at the moment the only ceritifed trainer for  BAT 2.0 (Behavioral Adjustment Training 2.0) method in Finland (CBATI Degree in USA in 2014).
Miira hosts seminars on e.g. BAT 2.0, reverse training for un-wanted behavior and cat training all over Finland as requested.
More information and siging up for both lectures by 15.02.2017:
Salla Honkapää (Facebook) or salla.honkapaa@kulkurit.fi
You are warmly welcome!